Restoring the strength, function, and beauty of your tooth with our Fillings.
SILVER VS TOOTH-COLORED FILLINGS
Learn more about our superior restorations.
For many years now, silver fillings have been used to restore decayed teeth. However:
Over time, teeth tend to crack as a result of the expansion and contraction of the silver when exposed to the hot and cold liquids we drink. These fractures start off small and are difficult to detect. Eventually, the fractures go deeper and cause temperature and pressure sensitivity when biting, or cause large portions of the tooth to break off.
In many instances, a root canal procedure becomes necessary to resolve the symptoms. Additionally, it becomes more difficult and costly to restore the tooth.
A more preventative approach is to replace silver filling with new composite filling or porcelain-bonded restorations before cracking occurs. This usually prevents further deterioration of the tooth.
Dental composites chemically adhere to the tooth and bind it together restoring strength and integrity. Composites are typically as strong as the original tooth and can be formulated to match your tooth color. You'll be pleased with how natural they feel alongside your original teeth.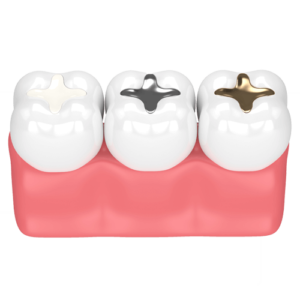 Not only are the staff always friendly and kind, the office is always nice and clean. I've always had top notch treatment from Laurel Dental.

Shannon Wiggins
04:20 19 Oct 23
Great dentists and staff. A clean and friendly place.

Dr. Flores and her staff do everything they can to make your dental and oral surgery work pain-free. They explain everything each step of the way, and give options for how to proceed with any additional work that needs to be done. They are kind and caring, and provide down-to-earth options, which I greatly appreciate. They will work with you to ensure your needs are met in the way that best works for you. I've been seeing Dr. Flores and her staff for years and highly recommend them.

Teresa Lyn
16:16 13 Oct 23
My very first visit. They were more thorough than any other dentist I have been through. Went over everything in great detail and never rushed. Staff was friendly and good sense of humor. Yep, they will be my ongoing dentist. Moved here from the SF Bay Area last year.

Mickey de la Rocha
21:55 11 Oct 23
Always a great experience! Everyone is so helpful and kind.

Stacy Bullock
18:10 10 Oct 23
Everyone is so nice...felt very comfortable throughout my entire consultation, exrays and cleaning

raejean dickinson
01:50 04 Oct 23
Very professional and wonderful staff felt comfortable and they were very thorough more work in the future 😁😁

Don Dickinson
20:37 03 Oct 23
I have been going there for a few years; every visit since the first they recognize me! By far they are the friendliest office I have visited.

Great treatment of my problem! Efficient, compassionate, good explanation of after treatment expectations!

Beth Harris
20:15 28 Sep 23
Professional*Friendly*Caring

Always warm and friendly I have been very happy with their services

Sharon Zimny
16:45 27 Sep 23
Favorite dentist on the peninsula!

Elizabeth Donadio
01:26 27 Sep 23
Great service, skilled and careful. Comfortable modern office.

Paul Pickett
21:36 26 Sep 23
I have been going here for years and love it! They are so personable and make me feel comfortable and for being a dentist office that is hard to do! Anytime I come in for a cleaning I always leave with my teeth feeling so refreshed and clean. And if I need any work to be done I always feel like not only the Doctor, but the assistants and hygienists always explain everything very thoroughly and I'm never afraid to ask questions. Thank you for being Awesome!

Leeanna Ness
21:19 20 Sep 23
As usual all of the staff was professional and concerned about the patient

Jackie Smith
01:53 20 Sep 23
Courteous, pleasant staff. They were running on time and were gentle and thorough

Robert Allen
21:15 14 Sep 23
Very gentle and polite very profesional excellent service.

Everyone was very friendly and so caring. They treated me like family. Aloha Gary

Gary Jarvill
18:21 14 Sep 23
Love Laurel Dental Clinic. Great care, great staff & relaxing atmosphere.

Kim Clevenger
17:18 14 Sep 23
Wonderful experience! Everyone was incredibly friendly, thoughtful, and there was a persistent level of humor and levity that made the visit light and entertaining while the staff also maintained utmost professionalism.I look forward to my future visits here!

Gregory Karpicus
19:11 13 Sep 23
The staff are great. They were thorough and addressed my concerns, plus found a sooner appointment for the fillings I needed. I left feeling like I was in good hands and confident in the care I received.

Jessica Bennett
03:48 29 Aug 23
I took my kids in for appointments this morning and the staff was all so helpful and great with them!! It was actually really fun! They were knowledgeable and quick and made the whole experience a great one!

Nicole Croxford
02:08 17 Aug 23
Love, love, love Laurel Dental Clinic and all the staff. They are friendly, professional, and let you know about costs that may not be covered by insurance (even worked with my insurance to get pre-approval for me).They are kind and gentle. It's been waaayyy too long since my last check-up and there was no shame, only positivity.Already (happily) made my next appointment.

Julie Greenberg
20:15 16 Aug 23
I've been going to Laurel Dental Clinic for six years and have been super happy with the care I've received. All the hygienists are terrific and knowledgable. They give me tips on what to do to keep my teeth in good shape. I'm 71, and would like to keep them all for the rest of my life.

Andrea Williams
22:10 11 Aug 23
I can't say enough about the amazing Team at Laurel Dental Clinic. From the first phone call to our latest treatment, everyone in the office went above and beyond to make us feel welcome and comfortable. Thank you to all the staff for being so patient and kind. Most of all I want to express my admiration for Dr. Beeler. Her professionalism mixed with a genuine care and concern for her patients is truly exceptional. Thank you Dr. Beeler!

Jana Snyder
17:59 11 Aug 23
Excellent service. Everyone so kind and polite. Procedures and costs given. Made going to the dentist a positive and enjoyable experience

judiloden loden
23:16 10 Aug 23
We love this dental clinic. They staff is friendly, professional, and amazing at putting you at ease. Best dental experience ever.

Shannon Kicza
17:10 10 Aug 23
I give the highest rating to Dr. Beeler and her assistant Maddie. They worked on my case until it was perfect. I have very tight and thick gingiva which makes placing the cord at the base of the temporary crown nearly impossible. Maddie worked with size 1 cord for 40 minutes until Dr. Beeler came on board to used a zero size cord. I am impressed by their sincerity and hard work. I rate them the highest. Thank you Laurel Dental. I love coming to visit and getting top dentistry done. I am also grateful for having this possibility in our great country. Thank You again, Connie Kelly, RDH

Connie Kelly
04:34 10 Aug 23
I couldn't be happier with the work that was done and with those that worked so hard on my behalf. Madison and Dr. Beeler are amazing!

Mike and Connie Kelly
21:20 09 Aug 23
Excellent care from start to finish, thank you all!

Laura Frantz
18:32 09 Aug 23
Wonderful with my 4 year old ! Great service

Halie Friesz
18:48 08 Aug 23
At age 82, I have been in more than a few Dental Offices all along the West Coast... Laurel Dental has the friendliest Staff of anywhere I have been and the Dr. is a super nice, competent person.It's just great service while being treated.(I just can't say enough good things about the staff... Warm, Friendly, and very competent.

John Kibele
02:26 08 Aug 23
For a first visit, quite nice... good folks, kind and considerate...all seem knowledgeable and skilled! Only reason for the 4 stars is time will tell...SO I have now had several appointments with Dr. Walker and crew and very much recommend this clinic... everything went smoothly and seems to be well done... thanks!

This place was amazing. The doctor took her time. And thoroughly went thru my mouth answering everything and every question I had. I'm super excited to see what they can do to help my situation in a few weeks.. I highly recommend

Jordan Test
02:28 30 Jul 23
Excellent staff and professionals. They communicate well and there is no tension in the office. They are thorough and gentle.

Jim DeRamus
20:12 26 Jul 23
The ladies in the office are smart, kind and very helpful.Dr. Beeler is skillful, kind and puts you at ease.I feel fortunate to have found this dental clinic.

Janet Trosper
18:52 26 Jul 23
Very friendly, patient and informative staff. No pain with prepping for my crown and they check with me often - just in case.

Nita Parsinen
14:34 23 Jul 23
Wonderful staff! They are careful and care about the patients experience.

Juan Haley
21:22 19 Jul 23
I have pretty extreme dental anxiety, and lots of dental issues. I've never been to a clinic so kind, compassionate, and caring. They schedule to allow breaks during the work, they have options for managing anxiety and pain, and they've held my hand when I cried. They've worked with me when my insurance was being terrible. They got me in quick for an issue before I'd even established care and had an exam. And Dr. Walker sings while she works. I never want to go to the dentist but I love these wonderful women!

Fast and friendly. They schedule around my work schedule.

Jeremy Kirkland
18:56 04 Jul 23
All staff have always been polite, professional, and transparent.

Drew Schwab
17:10 22 Jun 23
The entire office staff are friendly, efficient, and knowledgeable.Both the teeth cleaning and the exam were thorough. Also, I received helpful advice for keeping my teeth healthy.

Nancy Walters
22:23 21 Jun 23
Every cleaning I have hear are professionally done with care. They make sure your teeth are cleaned and if there needs to be any dental procedures to keep your teeth healthy.

Lance Petry (thehedgi)
18:17 21 Jun 23
Friendly staff. They go over all options and explain the process. I feel comfortable talking to the dentist about the best plan of action for my care.

Rose Sanders
20:14 20 Jun 23
While I was there a patient came in with mini cupcakes to give them Why? Because that's how wonderful everyone is that works there.

Deborah Langston
19:23 20 Jun 23
I had a thorough dental prophylaxis, painlessly done by a pleasant, professional hygienist, who helped educate me on some newer preventatives.

Charles Petrie
01:59 17 Jun 23
I have been very pleased with my experiences & those of other family members at Laurel Dental Clinic for years.

Cheryl Baumann
01:03 13 Jun 23
Everyone was very kind and gentle,and explain what they were going to do and explained how my exam and cleaning went. Love the crew.

Bruce Aitken
22:14 12 Jun 23
Very helpful and kind people working here. Would highly recommend to anyone in Port Angeles area.

justin madsen
22:38 08 Jun 23
Cleaning and check up went smoothly and quickly.

Rayna Armitage
22:54 06 Jun 23
Wonderful people, great dentist's, happy customer

Chelsey Wayne
15:27 06 Jun 23
I am very happy with the dental care I get at Laurel Dental Clinic.My hygienist, Allison is very thorough and gentle.Dr.Beeler is caring, thorough and informative. She educates me on my dental health.Sincerely,Kathy Durr.

Kathy Durr
19:15 02 Jun 23
Everyone was so nice and welcoming. And for someone without insurance it was really affordable.

Kellie Spradlin
18:16 30 May 23
We love Laurel Dental Clinic and Dr Beeler! Always cared for, gentle and friendly service! My kids aren't scared to go to the dentist anymore!

Rachael Lanning
19:46 18 May 23
Fastest & easiest filling ever. Kudos to Bailey DH & Dr.

Great service! Always friendly, professional and timely.

jared hagaman
22:08 16 May 23
I appreciated Bailey's professional care today with my new crown. She was very informative, funny and checked in with me often on how I was doing. Dr. Walker and she made a great team.

Lea Boutwell
17:21 16 May 23
Always friendly and professional and caring. Thanks.

Wayne Miller
16:27 10 May 23
I've always like Laurel Dental. One of my favorite things about the clinic is the after-hours availability of their dentists and the way they make you feel like part of there business family not just a patient. Thanks Laurel you guys and gals are awesome

Frank House
01:35 06 May 23
Everyone is friendly and professional. And I like getting the reminders for my appointments!

Phil White
19:55 04 May 23
Everyone is so nice and made me feel comfortable.

Vickie Hill
02:57 03 May 23
Best dentist office I have ever been to!

Dr. Berry and Bailey are Rockstars! I have horrible dental anxiety and they got me through 2 fillings quickly and with zero pain. Even the shot didn't hurt!

Tammy Sahargun
20:12 28 Apr 23
Best dentist ive been to in awhile.

Great Doctors and Technicians!!!!

The Laurel Dental clinic is professional and friendly. They always take the time to explain what they see and what their recommendations are.

Jamie Bent
21:24 25 Apr 23
The staff is excellent. Very nice and easy to work with. They understand dental work and they have the advance equipment to take of your dental issues. Overall, best dental group I've found.

Such a friendly staff and the clinician is fantastic such a top notch professional operation. I'd recommend to anyone!

Nancy H Alwin
04:03 19 Apr 23
Laurel Dentals friendly staff makes your visit to the dentist a pleasure.

Tracy Boutwell
20:42 14 Apr 23
Dr. Beeler and Madison were extremely gentle, compassionate and explained everything all through my build-up and crown. Great experience.

Judy Tordini
03:33 08 Apr 23
An excellent dental experience. I love these guys. If you're seeing another dentist you're seeing the wrong one.

Gregory P Whitehouse
23:10 05 Apr 23
My experience at laurel dental has been nothing but exceptional. The staff are great! Highly recommend them for your dental needs!

1sickmax 1
23:47 31 Mar 23
I like this place very much. 😊

Everyone is extremely pleasant and upbeat… Dental Hygienists are thorough and gentle and the Dentist's are great…This is one of the best dental clinics I have ever gone to…..

Made me feel very comfortable and cleaning was very painless.

Linda Krueger
17:35 26 Mar 23
Had a filling redone today. In and out in less than 30 minutes. Dr. Beeler and her assistant are wonderful!

Todd Northern
18:22 23 Feb 23
Staff is very friendly and courteous. For years I have had a fear of dentists but now I feel very comfortable with my regular dental care and prevention .

RANDY COCCO
18:38 21 Feb 23
STRONGER RESTORATIONS FOR YOUR SMILE
Replace your silver fillings or repair your tooth with metal-free fillings.