Spring is here and so is BBQ season! We have gathered a few favorite recipes from the office and wanted to share. Please give us feedback if you try any!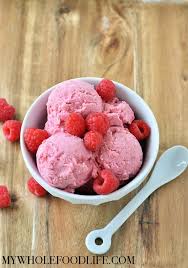 RASPBERRY COCONUT ICE CREAM
(This recipe taken from Vanessa at Vegan Family Recipes)
1 ½ c. frozen raspberries

1 c full fat coconut cream from 1 can of coconut milk (see note)

4 tsp Maple Syrup (Optional)

Up to 1/3 of a cup coconut water from the can of coconut milk
Place frozen raspberries, coconut cream, and maple syrup (if desired) in a high-powered blender or food processor.

Add coconut water, a tablespoon at a time, if blender has trouble blending ingredients. Do not exceed more than 1/3 of a cup coconut water.

Serve immediately or store in freezer for up to 2 weeks.
1. Follow these steps on how to make coconut cream. Refrigerate a can of coconut milk overnight. Carefully open the can. The coconut milk will have separated into a thick white coconut cream and coconut water.  Scoop out the coconut cream and use the remaining water if needed.
2. It is crucial to not use more than 1/3 of a cup of coconut water. The more coconut water you add the softer your ice cream will get and you won't be able to scoop it. Try to use as little as needed. If it is a bit too soft, place it in the freezer for a few minutes until it hardens enough to scoop.
3. The raspberry coconut ice cream tastes best when eaten right away. You can however freeze it. Place the ice cream in a dish and press parchment or wax paper onto the ice cream to prevent ice crystals from forming. There are no thickening agents or starches added to this ice cream so it won't stay soft in the freezer. Therefore, allow adequate time for the ice cream to defrost. Beware that each time this ice cream is thawed and then frozen again, it will get harder.
4. Adding maple syrup I entirely optional. This all depends on personal preference and the sweetness/tartness of the raspberries being use. Alternatively other liquid sweeteners can be used as well.
5. Feel free to swap out the raspberries with any other frozen fruit you like The creamy coconut ice cream options are endless!
Another delicious treat that is a favorite is simply grilled pineapple.
All you have to do is slice the pineapple into rings, lightly coat in avocado oil and drizzle with maple syrup and grill!
This is a finger food treat that is an absolute favorite around Laurel!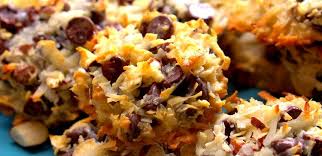 PALEO ALMOND JOY COOKIES
(This recipe is taken from The Health Nut Mama)
1-14oz bag semi-sweet Enjoy Life Mini Chocolate Chips

2 Cups Unsweetened Shredded Coconut

2/3 c Sliced Almonds

1 can full-fat coconut milk

4 TBSP raw honey

Dash or two of sea salt (optional)
Pour 1 can full-fat coconut milk into a small saucepan. Add raw honey and stir. Simmer on low and stir occasionally until reduced (approx. 15-25 min.) or until the milk turns a slight beige in color, reduce and thickens) let cool.  This could take longer than 25 min depending on how low you simmer.

To make cookies, preheat oven to 325*. Mix coconut, almonds, chocolate chips and sweetened condensed coconut milk. Use an ice cream scoop, or spoon to scoop out round balls.

Put on a baking sheet lined with parchment paper. Wet fingers with water (to keep them from sticking) shape and flatten the balls on top.  You want to pack them tight so that it sticks together. Hater shape you form is how they will turn out. You want them kind of thick, about an inch. Bake for 15-20 minutes or until golden brown. (I think they stick together better if they cook about 20 min. depending on the size of the cookie.)

Let cool and store in airtight container.  Enjoy! Remember, these are a crumbly cookie.
Be sure and let the coconut milk cool completely before mixing. Once you scoop the mixture on the mixture on the spoon or with an ice cream scoop, slide it off onto the pan.  They will be crumbly, but after you fill the pan, wet your fingers and shape into desired shape and press flat on top, but leave thick.
Once done, remove from oven and let cool.  I put them in the fridge to cool completely while on the pan. This helps to harden the cookie and makes it easier to transfer into the container.
If you think they are too moist, try adding a paper towel on top to absorb the moisture. I had someone suggest packing them in a greased or lined mini muffin pan and they turned out perfect.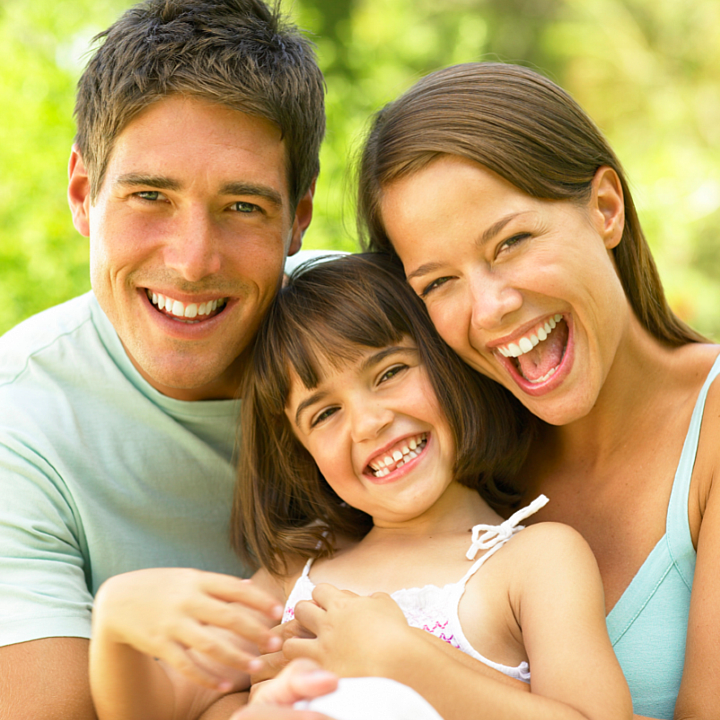 MAKING OUR COMMUNITY SMILE
At Laurel Dental Clinic, we guide you through your dental journey. From the moment you step through the door, you'll feel the care of our team and the difference of a friendly office environment